"For the Lord Himself will descend from heaven with a shout, with the voice of an archangel, and with the trumpet of God. And the dead in Christ will rise first. Then we who are alive and remain shall be caught up together with them in the clouds to meet the Lord in the air. And thus we shall always be with the Lord" (I Thessalonians 4:16, 17) "Because you have kept My (Jesus') command to persevere, I also will keep you from the hour of trial which shall come upon the whole world, to test those who dwell on the earth" (Revelation 3:10)
Some of you are old enough to remember the slogan TWA used in their commercials, "Up, Up and Away." (It was one of the big four airlines used in the U.S., operating from 1930 to 2001).
I used this old slogan to clarify what the Bible teaches will happen in a short matter of time, and suddenly. This is exactly what Jesus and Paul both predicted would take place shortly: All genuine believers in Jesus Christ (from the past c. 2000 years) will be removed from this earth to meet Jesus Christ in the clouds of the air and will be with Him forever! Then, sudden and massive destruction will fill the earth: For when they say, "Peace and safety!" then sudden destruction comes upon them, as labor pains upon a pregnant woman. And they shall not escape. (1 Thessalonians 5:3).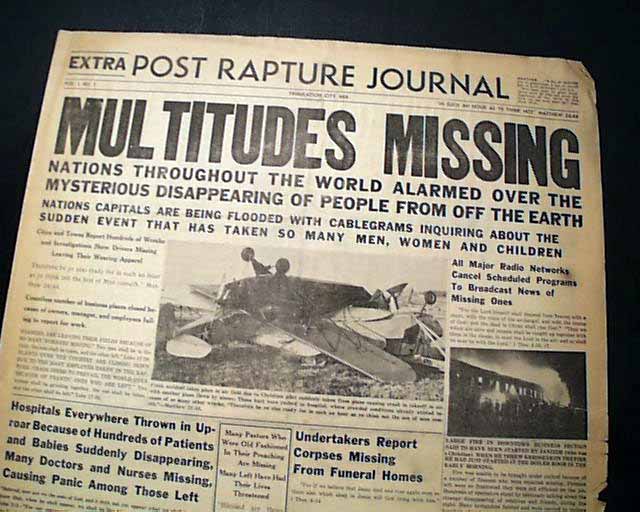 I know this may sound like a fairy tale to some of you, and you may keep on making fun of this teaching that comes from God Himself. However, when it does happen, it will not strike anyone as being "funny," or "crazy!" I suspect the news will beam and print such headlines as "Aliens Got Them," or, "Millions Disappear!" Just imaging waking up to find your loved one(s) missing. Suddenly you will remember that they had previously urged you to believe in Jesus Christ alone for the forgiveness of your sins and everlasting life. They will be the ones in Heaven, while you will be left on earth to suffer the worst time in all of human history! [Better read and heed this: For then there will be great tribulation, such as has not been since the beginning of the world until this time, no, nor ever shall be. (Matthew 24:21).]